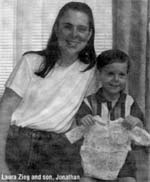 For two months, Laura Zieg spent most every waking hour and much of the night in an NICU (neonatal intensive care unit) with her premature son Jonathan. He was born with several serious medical complications that challenged his young life. Laura endured that experience and since then she has made a pledge to help others going through the same thing. Today her son is a happy, healthy 3-and-a-half year old who started pre-school this month. Even more exciting, Jonathan has a 7-month-old baby brother named Christopher!
When Laura began brainstorming ways to help other mothers and fathers in the same situation, she wanted to do more than just be available for comfort and advice. She came up with an idea for an easier, more comfortable way to dress babies in the unit.
"Because infants are in incubators and have all kinds of monitoring devices, IV tubes, and other medical equipment attached to their tiny bodies, it is difficult to dress and undress them. I decided to come up with a way to make that part of their care easier."
Laura designed a special type of "onesy" suit with velcro fastening at the shoulders, down the center, and at the legs to make it simple to change outfits without disturbing all the equipment attached to the baby. Her design eliminates the need to fit a small arm through a sleeve and allows easier fastening without bulky snaps.
"I found it was so disheartening as a new mother to not be able to put my baby in a cute outfit or change his clothes without causing a big problem. For parents who want everything to be as normal as possible, it is hard not to be able to dress your newborn in little baby clothes," she says. Laura remembers receiving drawers full of new baby clothes at showers before the big day arrived, but all of them were much too big and difficult to fasten to consider using on an infant in the NICU.
It takes Laura about 2 to 3 hours to make the newborn onesy suit she designed. She uses very soft, flame-resistant material designed for infant sleepwear and velcro for fastening. "I pick out pretty prints with bunnies or lambs and use pastel colors so the moms have a cute outfit to dress their babies in," she says.
Laura believes her little suits are more comfortable for tiny infants because they fit properly, won't bunch up and are soft and cozy. "The baby has to feel more comfortable and warm in these little outfits, plus, it is so much easier when you're changing the diaper," she adds.
Although she hasn't patented her design yet, Laura is researching the idea in hopes of taking this special project to another level. For now, she is happy making the little suits and giving them to the NICU for newborns to wear.
Laura's only knowledge of premature infants and their needs comes from firsthand experience. She doesn't have any nursing training -- just the real life knowledge that one gains from living through an ordeal. "After the experience with my son, I decided I wanted to do something to help others going through the same thing. It is a a very frightening and uncertain time, when your child is so fragile and in the NICU for a long time. You have all these built up expectations about how wonderful it will be when the baby is born and things don't turn out exactly as planned. I hope my tiny clothes, made with loving care, will help other parents find some comfort and take some joy in doing a simple thing like putting a new little outfit on their baby."